MWIR Camera Module + Continuous Zoom Lens
Neutrino® Ground ISR Series
Model: Neutrino LC - ISR 20-420
Go to Product Support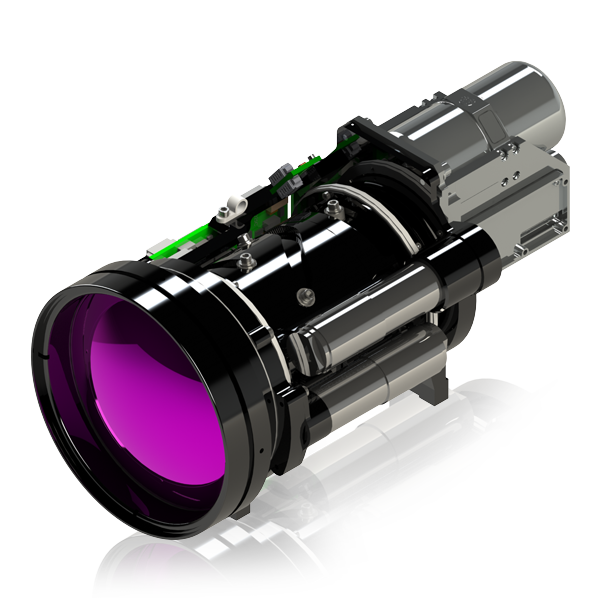 Made in the USA, and ITAR-free, the Neutrino Ground ISR series provides turnkey solutions for integrators developing intelligence, surveillance, and reconnaissance (ISR) systems. The cameras combine Teledyne FLIR's world-class mid-wavelength infrared (MWIR) camera modules and continuous zoom (CZ) lenses with market-leading image processing and control electronics from InVeo Designs LLC. Each camera offers high-performance imaging, a reliable long-life linear cooler, and a low switching cost to upgrade existing systems. The factory-integrated and optimized MWIR imaging systems from a single source provide market-leading performance while reducing development risk, cost, and time to market.

They incorporate multiple focal plane array (FPA) resolutions and CZ lens options, all with the same industry standard image processing and interface electronics, allowing for differing detection recognition and identification (DRI) requirements and affordability. With three configurations today and several more coming soon, the ITAR-free cameras provide the imaging performance required for short-, mid-, and long-range ISR, perimeter surveillance, border surveillance, and counter-UAS (CUAS) applications.

All Neutrino Ground ISR cameras are upgradable in 2024 to run Teledyne FLIR's AI detection, tracking, and classification models and image signal processing (ISP) libraries for super-resolution, turbulence mitigation, contrast enhancement, and more.
Subscribe to Our Newsletter