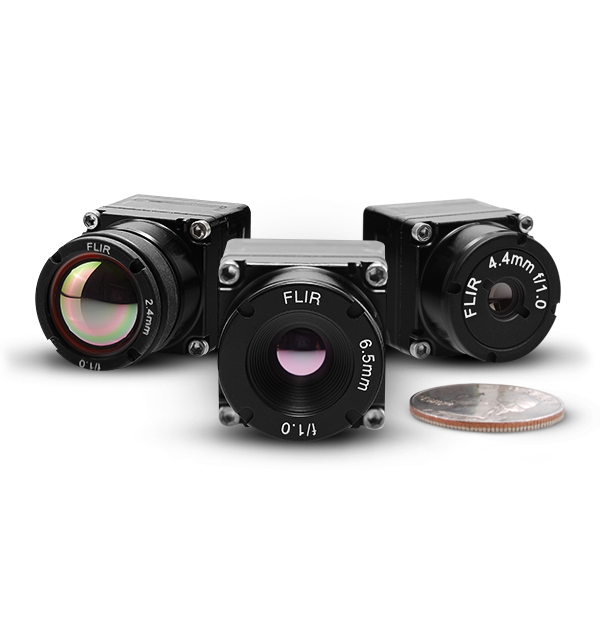 Boson
The Boson® longwave infrared (LWIR) thermal camera cores set a new standard for size, weight, power, and performance. Its 12µm pitch vanadium oxide (VOx) uncooled detector, comes in two resolutions — 640x512 or 320x256 — and it's available with lots of different lenses, so you're sure to find a configuration that's just right for your next project. Boson's advanced image processing, video analytics, peripheral sensor drivers, and industry-standard communication interfaces make integration easy.
Learn More
Expand your line with lightweight and versatile camera modules
FLIR's thermal camera cores are designed for easy and efficient integration into higher-level assemblies and platforms. Ideal for OEM applications, integrate compact reliable lightweight core modules into systems that you can manufacture and sell under your own brand.
---
---
Get started using Lepton in your project, and collaborate with other digital makers to get help or share ideas.
Smarter Cars, Safer Roads
Advanced Driver Assist Systems (ADAS) will revolutionize travel and transport while improving safety. Thermal cameras, along with other sensors, will be used to quickly detect and classify hazards in the road, increasing safety for passengers and pedestrians. As a leading OEM to Tier 1 automotive suppliers for 10+ years, FLIR has the reputation of delivering high performance, reliable night vision systems for pedestrian and animal detection. Developed with this expertise, the new FLIR ADK™ is a low cost, easy to install development kit that can be used to quickly demonstrate the for strength of thermal sensors for use in autonomous driving.
---
Thermal camera cores from FLIR open up a world of innovation, allowing you to create market-changing products and giving your customers the power to see the invisible.
Pan and tilt like a virtuoso
Explore FLIR's complete line of high-performance pan and tilt devices for real-time and computer-controlled positioning of virtually any payload. Adaptable enough for thermal cameras, video cameras, IP cameras, laser rangefinders, and microwave antennas.
Machine Vision Cameras
FLIR offers high-performance area scan, stereo and spherical digital cameras designed to meet demanding imaging needs in industrial, medical, life science, traffic, and GIS applications.