Teledyne FLIR's New Online Support Tools for Boson+ and Hadron 640R Bring Faster Integration for Developers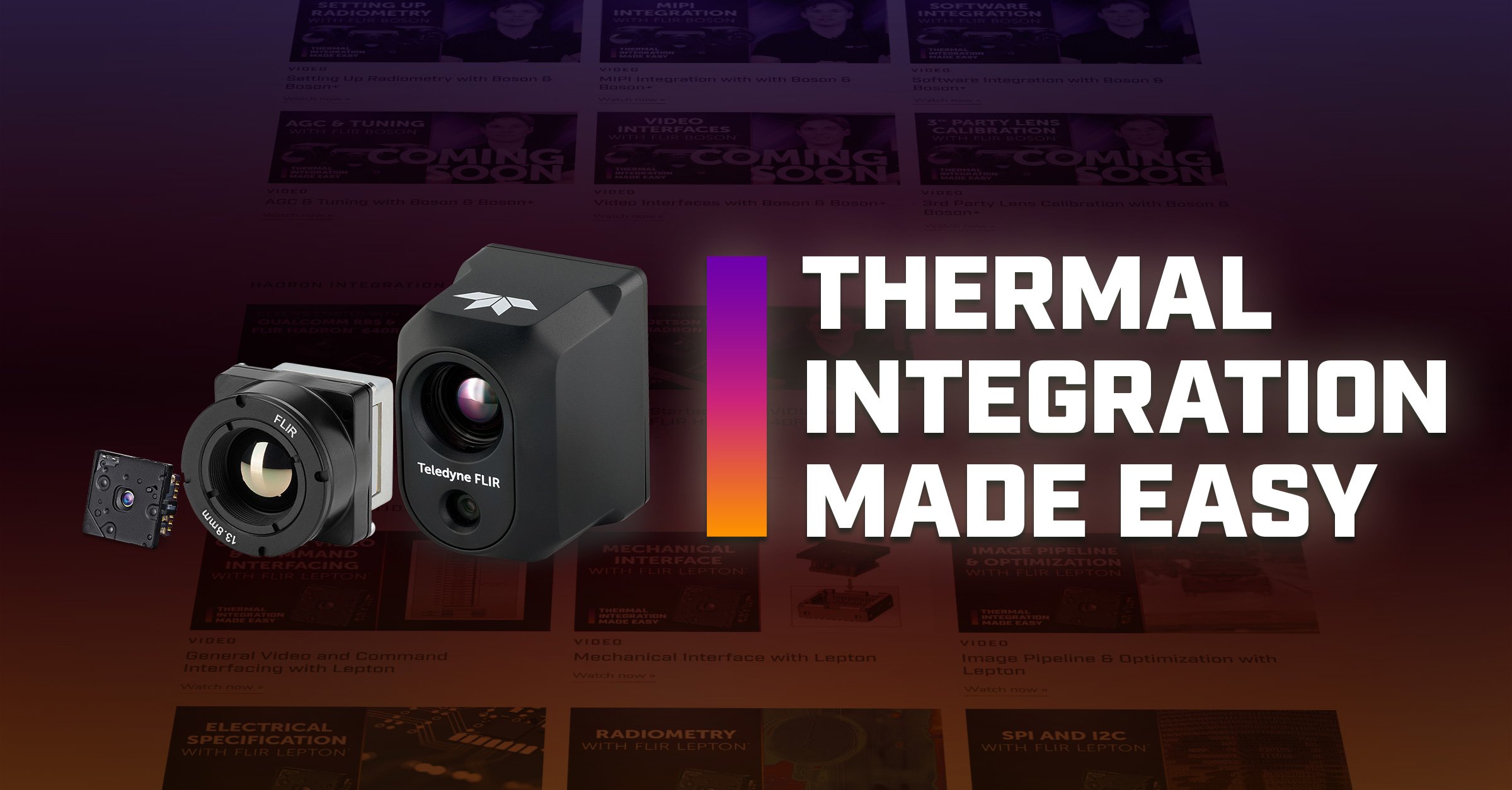 Video and download series enable engineers and developers to immediately start integration using tools, hardware, and software
GOLETA, Calif., May 23, 2023 ― Teledyne FLIR, part of Teledyne Technologies Incorporated, today launched a comprehensive online developer support series for the new Boson®+ thermal camera and Hadron™ 640R dual camera module. The program includes integration support videos and additional online content, offering tips and documentation to help reduce risk while simplifying thermal product development in defense, industrial, and emerging use cases.
"Teledyne FLIR provides data packages like comprehensive user guides, drawings, and app notes as well as GUIs, SDKs, and development kits to support the integration of our thermal camera modules in drones, handhelds, security products, and more," said Dan Walker, vice president, product management, Teledyne FLIR. "The integration support series is a key differentiator for Teledyne FLIR where we provide online support to enable our customers to start developing with our hardware, software, and tools immediately."
Teledyne FLIR offers the most comprehensive development-to-production support in the industry. The new video and download series includes guidance on setting up radiometry, tuning, lens calibration, and software and MIPI integration for Boson+. Step-by-step instructions get integrators started interfacing the Hadron 640R with cutting-edge Qualcomm and NVIDIA embedded systems. Additional content will be added as available to continue to support integrators get to market faster.
Plug-and-Play Integration
With a thermal sensitivity of 20 millikelvins (mK), Boson+ is the most sensitive longwave infrared (LWIR) camera line in the market and it is a drop-in upgrade for the widely deployed Boson thermal camera module. Hadron 640R pairs a performance-leading 640x512 resolution radiometric Boson® thermal camera with a 64MP visible camera in a single easy-to-integrate module. Designed to optimize size, weight, and power (SWaP) and manufactured in the USA, the Boson+ and Hadron 640R are ideal for integration in unmanned ground vehicles (UGV), unmanned aircraft systems (UAS), automotive, wearables, security applications, handhelds, and thermal sights.
Full Support for the Entire Product Lifecycle
The Teledyne FLIR advantage reduces cost and risk from development to production to product support. Designed for integrators and with industry-leading warranties, the SWaP and cost-optimized high-performance thermal camera modules are AI-compatible and can include factory-integrated lenses to speed development. Integration is made easy with application notes, videos, tools, and support from the applications team to enable optimized camera performance. With more than 40 years of US-based, full-rate manufacturing experience, Teledyne FLIR is the low-risk supply-chain partner.
To learn more about the integration series, please visit www.flir.com/time.
About Teledyne FLIR
Teledyne FLIR, a Teledyne Technologies company, is a world leader in intelligent sensing solutions for defense and industrial applications with approximately 4,000 employees worldwide. Founded in 1978, the company creates advanced technologies to help professionals make better, faster decisions that save lives and livelihoods. For more information, please visit www.teledyneflir.com or follow @flir.